2 Port Glove Box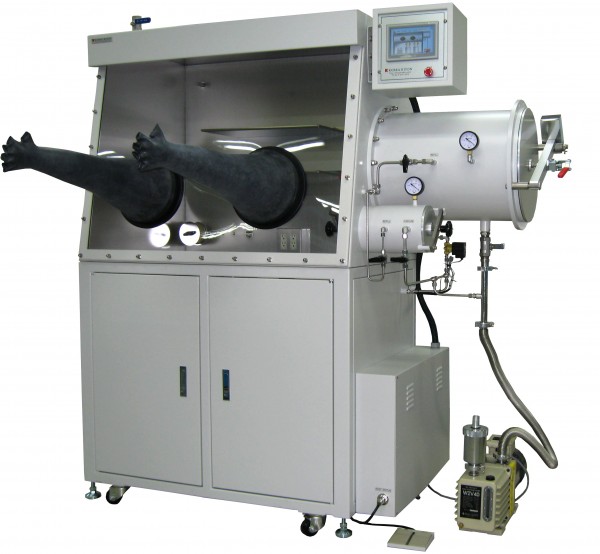 Model: KK-011AS
Glove box is designed to provide a hermetically sealed and highly customized working space under a very tightly controlled atmospheric environment; less than 1 ppm of Oxygen and Moisture concentration levels. Glove box expansion features include additional antechambers for flow processes, cold storage freezers, process vacuum ovens and furnaces and full line of accessories.
Features
1) Glove Box
Single length and Single Sided (2 port): 1,200(L) X 890(H) X 760(D)mm
Modular structure with elastomer gasket front panel
Material: 304 Stainless Steel, Main body: 4mm thick
Side end panel: 4mm thick, 3 micron filter: 2 ea
Fluorescent Skylight
8"Glove Port (M/C): 3 ea , Butyl Rubber Glove (9" dia.,15Mil thickness) : 1 pair
Window : 10mm thick, Scratch & High impact resistant, Optically clear Polycarbonate
6 Stainless steel shelves inside chamber
Electrical Outlet (1 ea.) : 220VAC x 4 receptacle x 15A
Glove Port cover: Protect atmosphere during glove replacement
Service port feedthrough: extra 2 NW40 ports
Manual purge vent valve with KF Flange NW25
Leakage Certification : No detectable leak at 17mbar with Helium spectrometer
2) Large Antechamber
Size: 380 inside dia. x 500mm length
Vacuum capacity: 1 x 10-3 torr, Door is vertical action
Tray : S/S Sliding Tray (200mm x 450mm)
Vacuum gauge: Bourdon tube dial type
Automatic Vacuum and Refill System
3) Mini Antechamber
150(dia.) x 290 (length)mm, Door : Single center clamped, O-ring
Gauge : Bourdon tube dial type, vacuum : 1 x 10-3 torr
Manual Vacuum and Refill System
4) Automatic Pressure Controller (7'' full Color Touch Screen Panel)
12.5 to +12.5 mbar, Limits easily adjustable via PLC
Read pressure and set limits, Manual foot switch operate whether automatic control is on or off
Four solenoid valves are operated. Gas pressure: 10 to 30 psi. Approx. 25 psi
5) Dri Trap (Purification System)
Circulation Blower: 106m³/h (Variable speed control, Max pressure: 5.9 Kpa, 220V, 3Ph, 60Hz)
Working gas: N2 or Ar Gas for Circulation
N2/H2 or Ar/H2 mixture gas for regeneration (H2 Gas: 3-5%)
Automatic atmosphere reduction for 1 ppm atmosphere
Oxygen/Moisture removal to less than 1 ppm
Control: Programmable Logic Controller type
Automatic purification regeneration process
Electro-Pneumatic valve for regeneration
Single Column Purifier: Purifier charger Capacity (Molecular sieve and Copper oxide)
6) Vacuum Pump (Double Stage)
Ÿ Direct drive oil-sealed rotary vane vacuum pump.
Actual pumping speed: 21m³/h
Ultimate pressure: 5 x 10¯3 torr.
Inlet & Outlet Connection: NW25
Oil capacity: 1.1 liter, weight: 24kg
Oil mist trap with exhaust pipe & flange.
7) Support Stand
1200(L) x 930(H) x 760(D)mm, Type : 2 Door Cabinet Type.
Material: SS400(Steel), Caster : Separate type 3" Foot Master , Height adjustable pad.
Painting HF-BK006
8) Moisture Analyzer
Model: DMT152
Type: Thin-film capacitive polymer sensor
Measurement range: 0 ~ 1,000ppm
Accuracy: ±2℃
Complies with EMC standard EN61325-1
9) Oxygen Trace Analyzer
Model: LD-450-C(Converter), SD25NW(Sensor Unit)
Measurement system: Zirconia Oxygen concentration cell
Measurement range: 0.001ppm – 100%
Display range: 0-1,000ppm
Repeatability: ±0.5%FS or less 0-1% range or more ±1.0% FS or ±0.1ppm whichever is bigger or less than 0-1% range
2 Port Glove Box layout